Here's the new one. I picked up the Amazon Dash Wand. It cost $20, although, in a way, it's technically free. When you register it, you get all your money back through an Amazon gift card.
It's much smaller than you would think it is,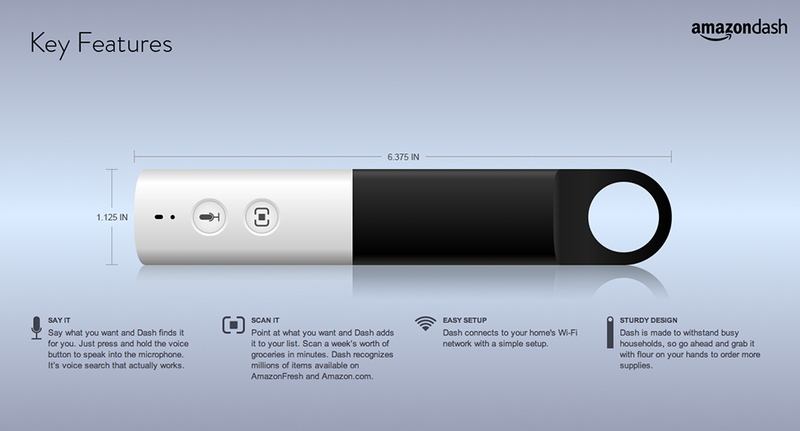 or at least smaller than I assumed it would be, which made it that much cooler, given that I've been ever so slightly peeved that, after the trends of making gadgets progressively more compact, the trend pendulum just started swinging the other way, and now there are some phones that just seem like small tablets.
The packaging is nice enough. The first surprise was that it came with a battery, which is pretty cool that they didn't offset the exciting of getting the product with the "Go and get 3 triple A batteries at once" trick so many manufacturers have pulled. Another thing that is genuinely impressive is seeing all the effort that is being put into this Amazon Dash Wand product becoming ubiquitous, which, this, of course, means that the effort Amazon is making to have this establish itself defiantly, definitively and also have that done quickly, is very much legit.
It came included with its own little hanger, so you can choose what place you want it to be hanging. It clings to pretty much anything.
The batteries slide in easily enough. No awkward struggle to insert them and put them in, or trying to get them out if you mistakenly put one the wrong way 'round, which is unlike some products that still seem to have to consideration for the customer in those aspects.
In order to function, it will need a Wi-Fi connection.
You have to give it your network password into it, and you need your phone in order to register it.
Then you have to go to the wand set up a website on Amazon's and install the Amazon Shopping app.
Then it assists you in setting up your dash wand.
You do have to set up the location access function in order to use it, which is obvious since this is a delivery system after all. Nonetheless, I'm sure the paranoid conspiracy mongering demographics will run with this and come up with all sorts of wild ideas about how me ordering more Ben & Jerry's ice cream is all part of the plan of some secret society.
You make sure your Bluetooth is on, you select your Wi-Fi network, and… Set up complete! This has to make it, by far, the easiest setups of any devices that were powered by Alexa. At least it's the easiest set up involving Alexa that I can remember.
Afterward, I just went nuts scanning everything and seeing my shopping cart and being amazed that, this thing I just bought, did the very thing I bought it for being able to do. Same way I was surprised when the first camera phone I used actually took the pictures of what I aimed it at, shocking right? True story.
It was working perfectly smoothly right after I set it up. I even told Alexa to tell me a joke and she did; nothing special, but still, it's pretty interesting to have that type of interactions with programs. Alexa's abilities go beyond telling bad jokes, she can make inquiries about the weather and, just like in the commercialand she can make unit conversions extremely quickly. Although the skeptic in me had me double check through Google just to be sure, right after I realized that asking it questions I didn't know the answer to wasn't exactly an efficient way to test it.
The barcode scanning is a lot of fun when you first start using it and, immediately start running around your house looking for all type of random objects to scan. Thankfully, the barcode scanner can't place orders, just place items in your cart – epic crisis avoided. Still, it was quite disconcerting to realize that moving it around, it was actually scanning and I ended up with about a dozen of "Hot Cheetos" in my cart. Sorting things out was easy enough to anyone that has used Amazon ever.
There is an issue.
The barcode scanner might not be able to place orders, but voice orders do go through. They do not even give a chance to revise the orders in the cart, and I consumed my $20 in the form of kit-kat bars.
In spite of being easier to install than other Alexa devices, and it integrating with most of other of its Alexa counterparts, unlike them, it can't play music. A complaint that sounds like that of a spoiled child, but it's still a letdown considering I didn't expect it to un-do one of the things that was good about Alexa.
Of course, nothing is perfect,
and neither is the Amazon Dash Wand.
As petty of a complaint as it may be, it isn't hands free. Of course, you have to be close enough to use it, and in order to scan objects, you need to grab it. Unless you thought of using it like a supermarket barcode scanner, hang it and swipe the items in front of it, the second you remember how easy to lose things so small are. But, you have to press a button on it in order to activate Alexa. Convenient considering this can really cost you money, placing orders for random things you talk about when thinking out loud, but when I started cooking and saw ingredients that I didn't have, I had to wash my hands every time, after each realization and subsequently dry them before I could use Alexa and then go back to preparing the food. And given that it was advertised mainly as an object that could get rid of the need of running to the grocery store for a handful of items, the fact that it doesn't even have a timer, a basic cooking aiding function, is disappointing.
Still for $20 (with $20 credit),
it's a great deal and is very useful. But does this make me want to join Amazon Prime? Not yet.