What is/are SmartThings?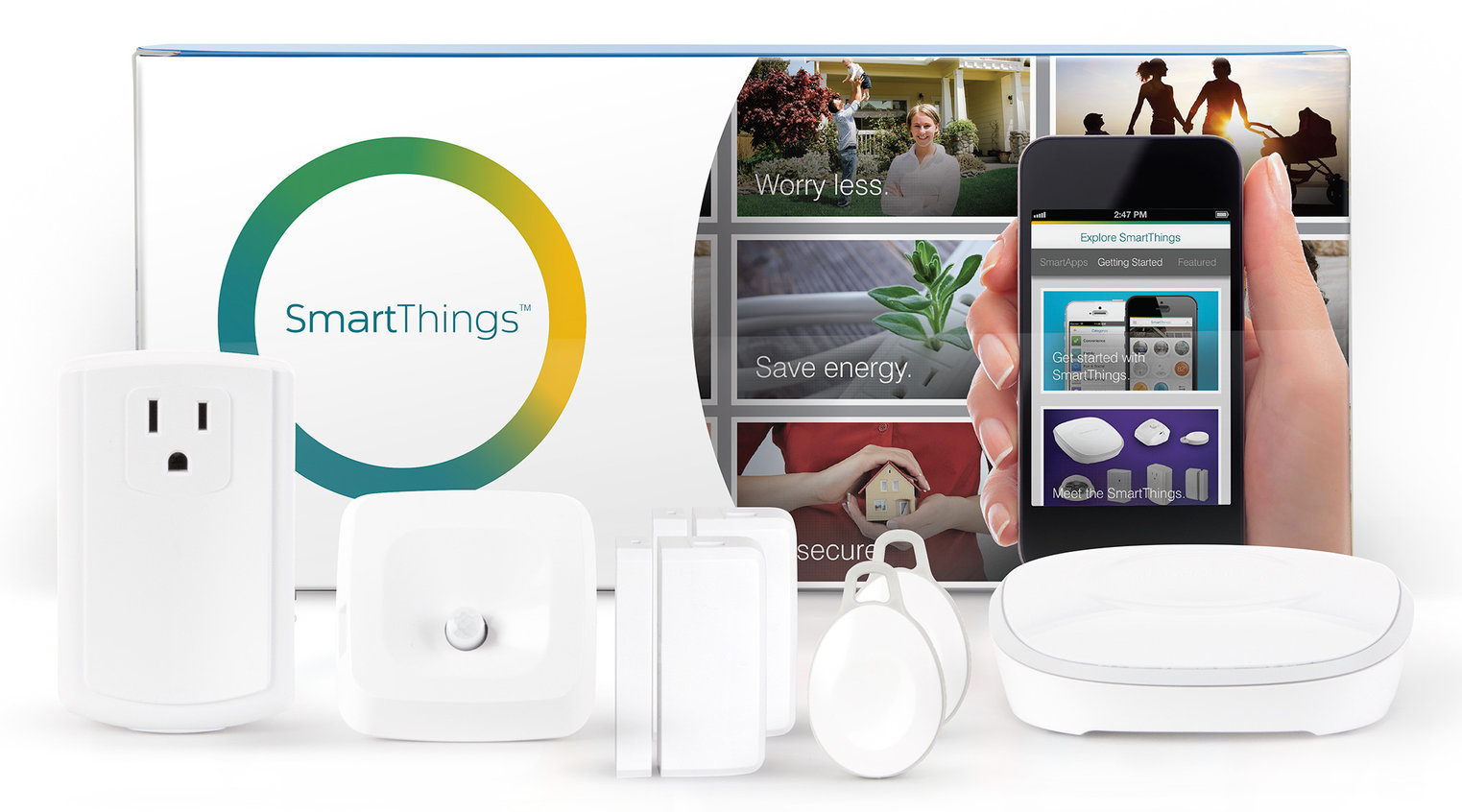 They set up a system of Things that all connect wirelessly to help you monitor, control and automate your home.
Each kit has different pieces, but all of the kits have a hub. And this hub connects to your wireless router and connects all the Things to the Internet. And then you can all control them from your smartphone. So, after you connect your hub to your router you can connect and control all the different Things.
The kit that I happened to test came with a few things. It came with a motion sensor, a power outlet (which seems like it could also be useful for a lamp or something similar). It also came with two open & close sensor, which are for doors, and helps you monitor doors to see whether they're open or closed; this sparks my interest in a particular way because I happen to have a few dogs that have been known to run away, so this is something that I'm psyched about, because I'd really like to see if it works, so that I can know if they happen to sneak out through the back yard again. The last piece of the kit I got to review was a type of motion sensor.
So, how did they work?
I started with the motion sensor. I opened the application and synched it up, and it was quicker than I would've expected as it found it and connected almost immediately. Once I selected it, I was allowed to name it (Inspiration didn't strike, so I named it 'Thing 1″), then I had to inform it as to what part of the house it is in and then I got shown a list of things that it could do. Then I had to tell it how to notify me. I tested it and it worked incredibly fast.
I, then, moved on to the open & close sensor. And since I really wanted to test the response time, in real time, so I did, and the results were that it was fairly fast; I don't think it took a full second to notify me, actually.
Honestly, I was quite impressed with how simply the items were to use as well as to set up. And the variety of functions the Things can perform is very impressive. Inter connection is something you can do with them too.
Turns out it's not all about the hub. Using the SmartThings application, I can control the hub and the other Things. The application is, of course, available for Android, iOS and Windows Phone, and obviously, a device that is compatible with one of those will be needed in order for it to work.
The application is very user friendly. No need to read a manual, really, it's all extremely instinctual. You include your Things into the app with its automatic discovery system. The Hub will scan automatically for other Things it can connect to and will let you choose which ones you want to incorporate into the setup. It sounds very convoluted, but it is all done in less than a second (maybe two), with a couple of taps being all that is needed to do it.
I was impressed that the Things weren't limited to being set up in the house and stay that way. Turns out, the Things can be grouped into specific rooms that can be chosen (kitchen, living room, etc.) and each of them can be assigned specific tasks to perform or they can be told to monitor specific events. In this case, I was glad that there was a step by step guide to see me through this; there were some default settings to get me going and get me used to using them in this way and start playing with them.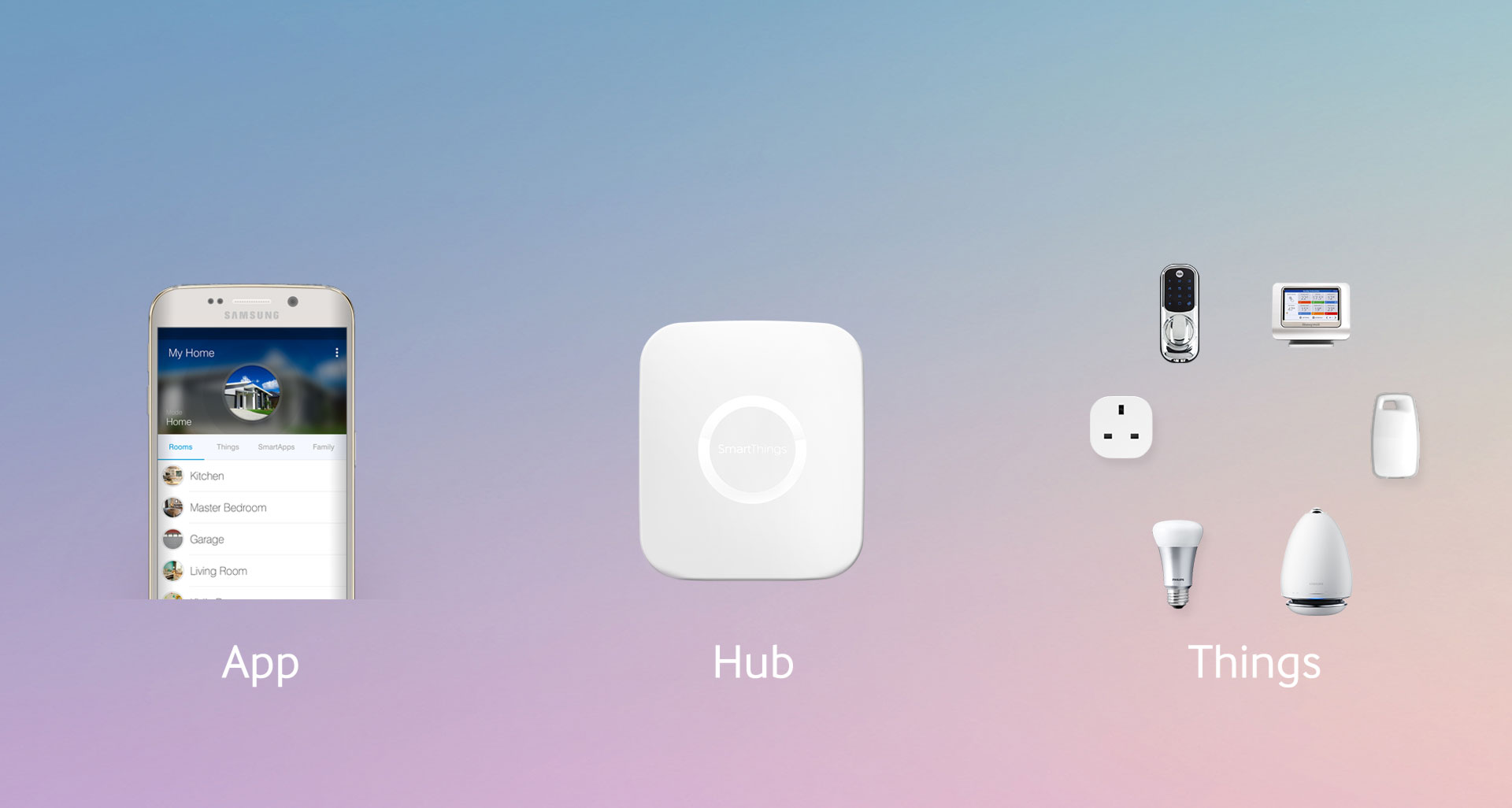 I ended up using the "advanced configurations", which weren't hard to configure at all, actually. I set up an alarm system utilizing the sensors and programming them to have the lights turn on at the moment it sensed movement and send me a notification when it did. As well as sending me notifications if certain doors opened.
Of course, this isn't exclusive to SmartThings. Commonplace alarm systems can do these things, but what they can't do is serve other functions other than being alarm systems.
They all work so smoothly that they don't intrude on daily routine at all.
Things do turn dicey when trying to make them function with devices that aren't officially supported, but, to be fair, that's to be expected.
What can be done with the Samsung SmartThings depends on how many ideas you can conjure up (and how much time you have on your hands), as well as how many SmartThings devices you've got.
I actually programmed them to introduce me as I walked through the door coming home from work with loud music and flashing light bulbs.
And, when I started to think about the safety implications of this, I thought up of many useful scenarios. If the house were ever to catch fire, I could just unlock the doors and make my way out. And in cases of home invasion, I could do the opposite and close the doors until the police arrive. My favorite was programming that my morning coffee be prepared simultaneously when my alarm started blaring, which motivated me more to leave the bed.
Being a fan of all kinds of devices, being able to sync them all up and use them in a more ergonomic way, really turned what seemed like a fairly chaotic house into a home so efficient, it felt for moments as if the very house was my personal butler. I can't speak highly enough of Samsung SmartThings. The sensors work perfectly, most products are compatible, and anyone who knows how to use a smartphone can feel like they're Tony Stark for a very low price. Well, at least I did.
In conclusion, SmartThings is about as good as an integrated system of this type can be.